Hey there! Dailywithpets contains affiliate links; if you buy something through one of these links, you won't pay a penny more, but we'll get a small commission that helps keep the lights on.
As a complete beginner, you may be wondering what to do with your new pet rat. Pet rats have become very popular. However, it can be challenging to find good rat owners who know what they are doing. This is because owning a pet rat can be challenging, and if you don't learn the right skills to care for your pet rat and handle the unique challenges that may arise, your pet will be unhappy, and you will probably end up with a very stressed-out rat.
Are Pet Rats Easy to Take Care Of? 
Pet rats are not hard to care for and add a lot of joy to any family they join. They're great companions and very easy to care for. However, there are things that people should know before they decide to take a pet rat home for the first time.
There are plenty of reputable breeders out there that offer healthy, well-socialized pet rats for sale. You should first make sure that the breeder you purchase from has been inspected by an animal health inspection company and is in good standing. When you find a good breeder, it will be worth the time to go through the process of information seeking and research before purchasing a specific pet rat.
Preferably get a Socialized rat. 
When you are ready to buy your pet rat, you should choose one that will companion you and your family. You want a pet rat that is friendly, playful, and not shy. This means that you want to look for a pet rat that has been socialized with other pets. A pet rat that has had this type of experience will adjust to any new environment.
Healthy weight.
A pet rat should also have a healthy weight. If your pet rat is underweight, you should consider the amount of food you give it. If your pet rat is too heavy, it will have trouble getting around on its own, and it could lead to health complications.
Spayed or Neutered?
Surgical sterilization allows males and females to be kept together because rats can reproduce early. The most common form is surgical spay (the removal of testicles of males)  or neuter ( the removal of ovaries or uterus of females).
When you purchase a pet rat, you should get one already been spayed or neutered. 
When males are neutered, it is because they've been aggressive and uncooperative. Females can be spayed because it has many health benefits, such as preventing uterine cancer, thus helping them reach their full potential for life. 
Of course, if you're bringing a male and female together, you'll need to decide whether to neuter or spay to help manage their breeding. 
Age of the rat
The pet rat should be less than a year old but certainly more than six weeks old at the time of purchase. This is to ensure you get to bond and enjoy the company of your pet for a significant portion of their lifespan.
The lifespan of a rat can vary depending on its care and health. In general, rats live for around two years.
Burrowing
Rats are very playful creatures and love digging. You can help your pet rat get what he needs by providing a safe and rat-safe digs box filled with clean dirt, play sand, biodegradable packing peanuts, or other rat-safe material.
Rats Are Nocturnal
Rats are primarily nocturnal animals, which means they will mostly be found roaming about and making noise during nighttime.
You'll find that if you keep your rats' cage in the same space as your room, you'll be plagued by noise from them chewing and scurrying about at night. If you're a light sleeper, it will be best for you to keep your rats in a space other than where you sleep.
Many rat owners, especially kids, may find it frustrating that their rat sleeps during the day. They will see this as a missed opportunity to better get to know their pet and maybe even teach them a few tricks.
Gnawing
Rats being members of the rodent family, are known for chewing. This frequent chewing plays a significant role in helping them wear down their constantly growing incisors' teeth. Be prepared by offering rat-safe chew toys in the habitat, rat-proofing any rooms you allow them access to, and supervising them when they're enjoying free-roam time outside the cage.
Grooming
Rats are ordinarily clean animals. They groom themselves numerous times throughout the day, starting with their front paws rubbing the face then moving down the body to the end of the tail. You will only need to help your rat with nail trimming. When rats stop grooming or have an unkempt coat, it's one sign that they may be ill.
 Coprophagia
Rats do all sorts of exciting things. One of the more unusual is that they eat their excrement, and not only will you not see them do it, you probably won't even know it if they do. Don't worry about this if you ever find a rat eating its feces.
Hideouts, Hammocks, and Houses
If you have a rat cage, you should provide them with a place to sleep. A sleeping den, tunnel, or hammock is ideal for your rats as it gives them a comfortable and private space to nap in. Rat marks will appear all over the cage, so try not to get alarmed if their favorite area becomes a little more used than others.
Rat Food
It's safe to say that pet rats aren't picky folk, and their diet is straightforward to maintain. Pellet food should be the majority of a rat's diet. You can offer other fresh foods to incentivize the rat's appetite and round out its nutritional intake.
Loose seed mixes are an excellent staple for most rats, but it can be challenging to find the right mix for a particular rat. It's recommended that your pet always have access to a high-quality diet.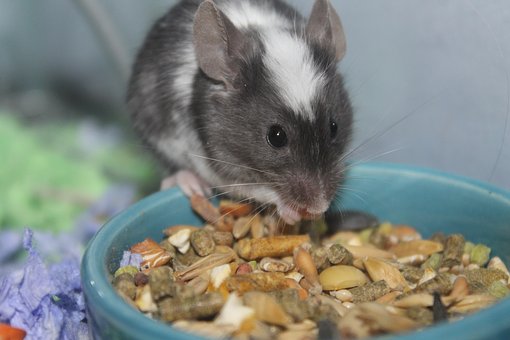 Finding the best rat pellets for your pet can be a challenge as some formulas are designed for other animals, and some are based on a less expensive diet. It's best to research which pellets are best for your pet before adding them to your diet.
You can also offer a wide variety of fruits and veggies to pet rats. These treats can be an entertaining way to bond and make food time fun for pet rats. Be aware, however, that rats shouldn't be overfed, as too much of the treatment could lead to diarrhea or unhealthy weight gain.
Cleaning Rat's cage
Pet rats need help when it comes to keeping their cages clean and odor-free. Cleaning the cage weekly will keep the smells at bay. Spot cleaning daily helps prevent mess and odors from building up as the week progresses.
White vinegar is one of the most effective cleaners for cleaning up urine spots on the floor. You can also substitute this product for harsh detergents on the entire cage. Cleaning the cage is a simple task and doesn't require anything special. Your pet rats will eventually get used to the routine and start enjoying it!
It's important not to go overboard cleaning the cage because this may increase the rat's natural marking behavior.
Vet Checkups.
Pet rats need vet checkups just the same as other household pets. Every year, it's a good idea to bring them in for a checkup at the vet. They'll need an overall check of their health, weight, hair, skin, and teeth. During these checkups, the vet will look at these aspects, among others.
Rats can get several expensive health problems. Some common issues are tumors and respiratory issues. You should be aware that these issues are relatively easy to spot, and you can catch the issue early if you take note of the behavior changes in your rats. Ensure a veterinarian sees your pet to check and catch these problems before they become expensive or complicated.
Conclusion
Rats are no more complicated to take care of than regular cats or dogs. In most cases, rats are less demanding pets to keep and are much more affordable than other household animal companions.
Rats are extremely clean animals, and they are very sensitive to smells
You will need to be able to commit to a pet that is not going to live for long
They don't require extensive changes to the home
Rats have great personalities
Rats don't have complex diets or daily care routines.
It doesn't take a lot to make fun and entertaining toys. You don't need to spend lots of money on expensive equipment. You can even make toys out of ordinary everyday objects.